Nebraska Star Party 10
My regular weekend fell on July 24-25, which I used to get the camper packed. I managed to get everything packed except fresh food. Early on the morning of the 26th, Cheryl packed the food items that needed to be chilled in a small cooler that we could carry in the car. We managed to leave the house by 08.30am(very good for us) and we stopped at the atm and picked up some cash. We then stopped at a Kwik Trip/Burger King on the University Ave exit, West Des Moines, topped the car off and had breakfast. We left Des Moines at approximatly 09.15am.

We followed the 80 West toward Omaha, driving about 70mph, we then took the 680 bypass north around Omaha. At a couple minuites after 11.00am we crossed the Missouri. Within a few minuites a major vibration developed, I pulled over to see what was wrong. A quick scan showed that all of the tires were inflated, but a more careful inspection revealed a balooned camper tire(and it was still inflating.)

I hadn't even thought much about the tires on the camper, we had already had it out once this year without any problems. Well I didn't even have a lug wrench that would work on the camper, so I had to call for help.

We first called AAA, who told me the camper wasn't covered. They then recomended I call the local police. I called the Omaha Police Dept. And they gave me two numbers for local tow services. The first company said they would come out for $45and it would be about 30 minutes, I agreed.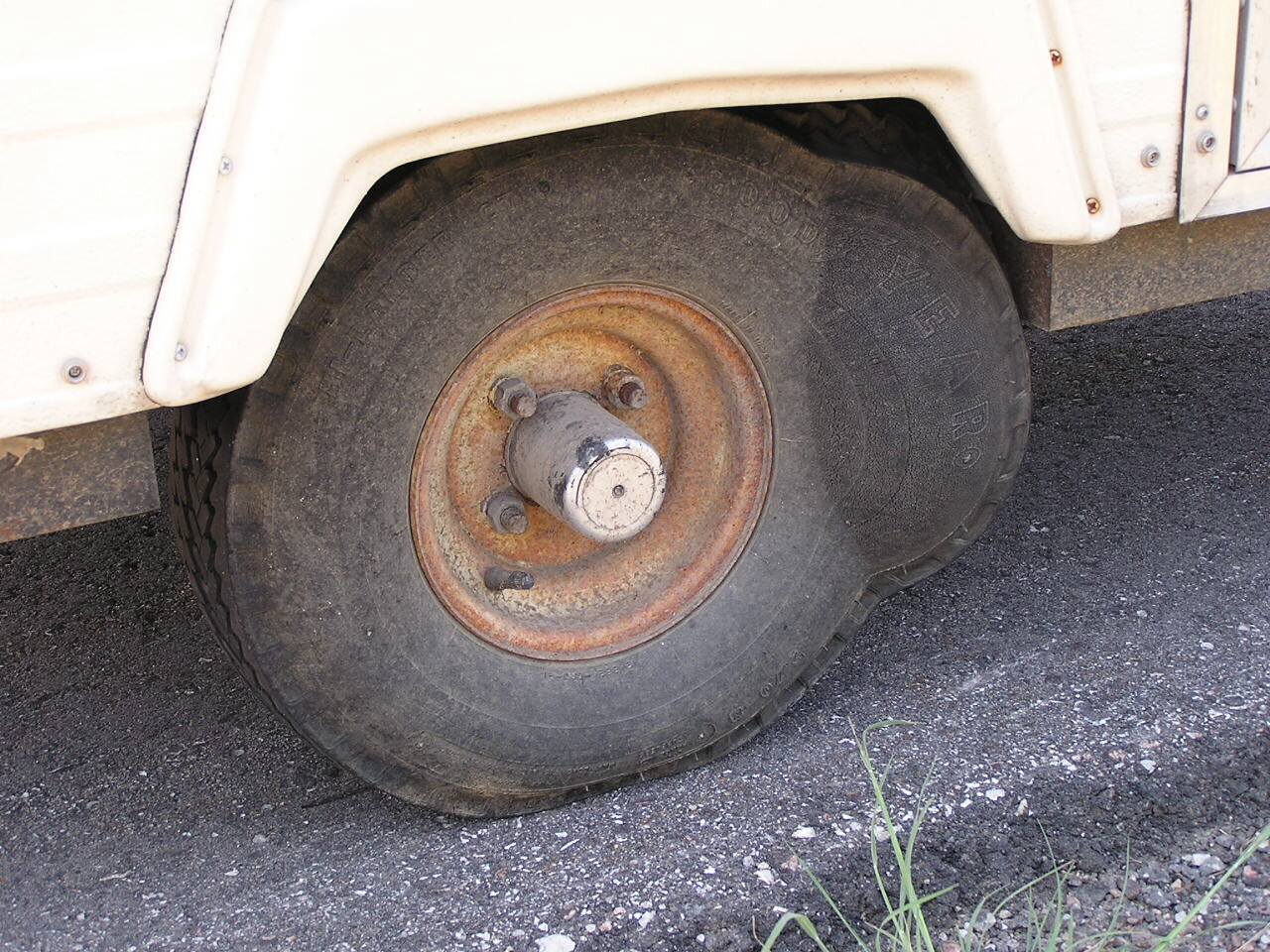 It was about 90 degrees and the car was getting hot, so we got out the lawn chairs and set back and relaxed. In about 30-40 minuites the tow truck showed up, they pulled the tire off and put the spare on for us. They then informed us, two exits down was a TSC and they would sell us tires that would fit our camper. We figure we lost about an hour.

We went to the TSC and purchased a spare for about $45 and a four way for about $15. We filled up at a gas station next door. We had driven 131 miles and used 7.6 gallons of gas giving us about 17mpg(not very good) We had intended on driving west on 80 to North Platte and then taking US highway 83 north to Valentine. But the clerk in the gas station said we would save several hours if we went the back way.

So feeling brave, we went north on US Highway 75 and then followed US Highway 30 into Fremont. We stopped there at a Runza fast food returant My brother in law Phil had put us up to that, He knew they were popular in Nebraska and was curious. It is spiced hamburger, cabbage and onions in a baked piece of bread(kind of like a small calzone, only diffrent.) It is probably of german heritage. We then followed US Highway 275 North out of Fremont. About 20 minuites before we got to O'Neil, NE, the spare tire came apart. I felt the vibration, but couldn't see anything wrong. Cheryl could see rubber flying off of the tire. I pulled over and changed the tire, time lost 20 minuites. When we got to O'Neil we fueled up(180 miles and used 10.5 gallons.) One of the patrons recomended that we go to Bomgards, farm retail chain. They mounted one of their tires and charged us $37. Cheryl said that she was in love with farm retail stores.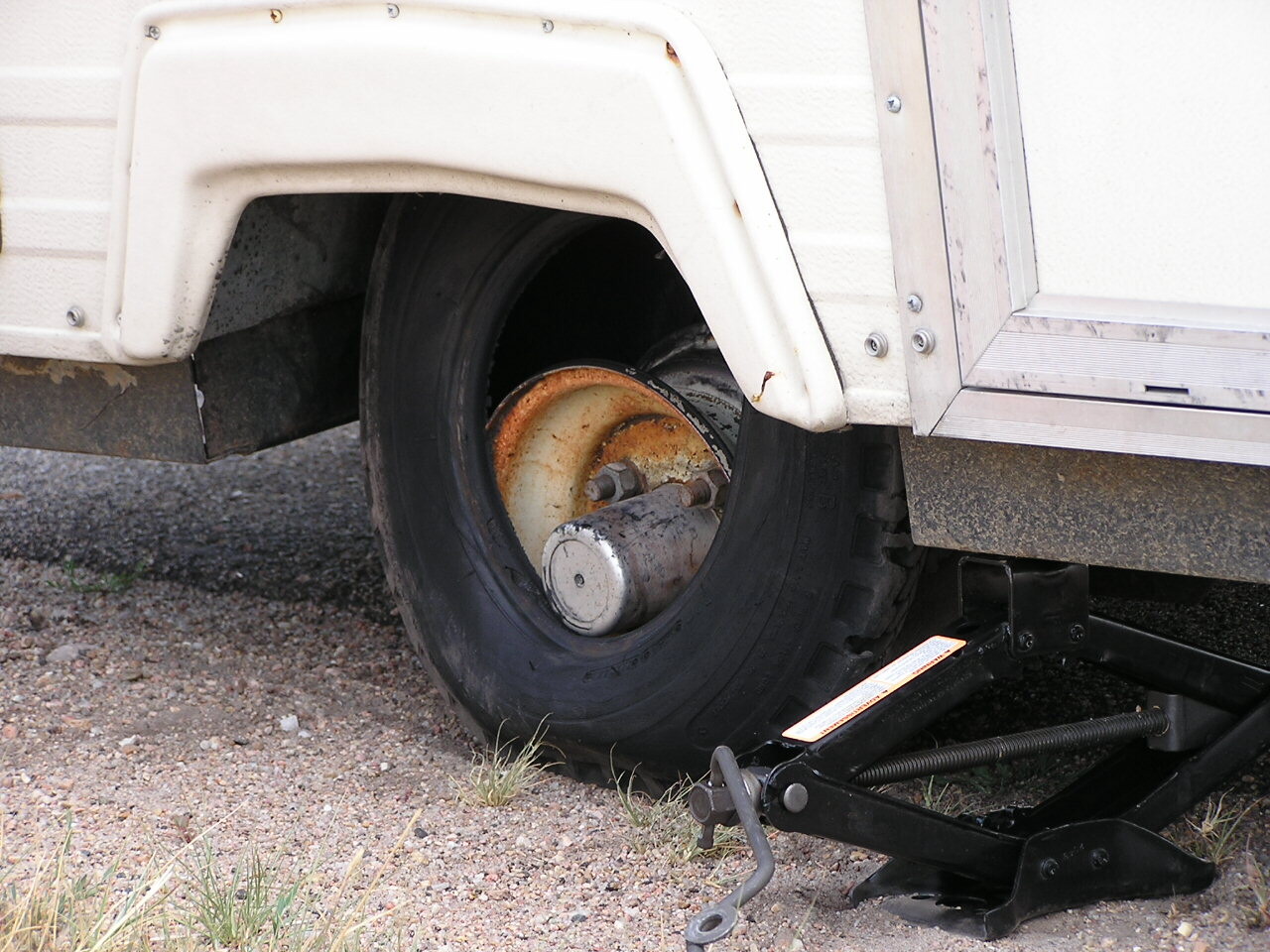 It was after 8pm before we arrived in Valentine, I believe we filled the car up there(177 miles, 8 gallons giving 22 mpg) and then headed for Merritt Resovoir(about 25 miles.) It was after 9pm before we had the camper set up. I think we just had sanwiches and went to bed. I also discovered the flies bite up here leaving some welts on my legs, they left Cheryl alone.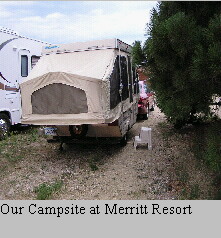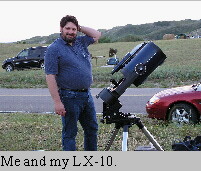 About 10 am the next morning, the camper was just to hot to spend much time in there. So we took the car back to Valentine, had lunch at Jordan's. It was a buffet, all you can eat, the steak here is very very good. We headed out to the observing site and set up at about 07.30pm and set up. Bryan and Jim from our local club(DMAS) found us and Bryan assaulted us with his digital camera. Unfortunatly clouds moved in, so we were back at the camper by 11pm.

Monday we were up by 8am and we went and did some site seeing. We saw two of the three waterfalls and took a hike. There is a dollar entry fee for the Snake River Waterfall(well worth it!)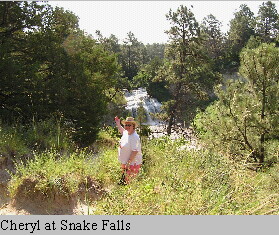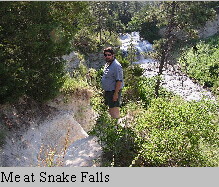 After we saw Snake Falls, we went to Fort Niobrara Wild Life Refuge, which had a drive through park, with lots of prarie dogs and some larger herbivores of which we saw several elk.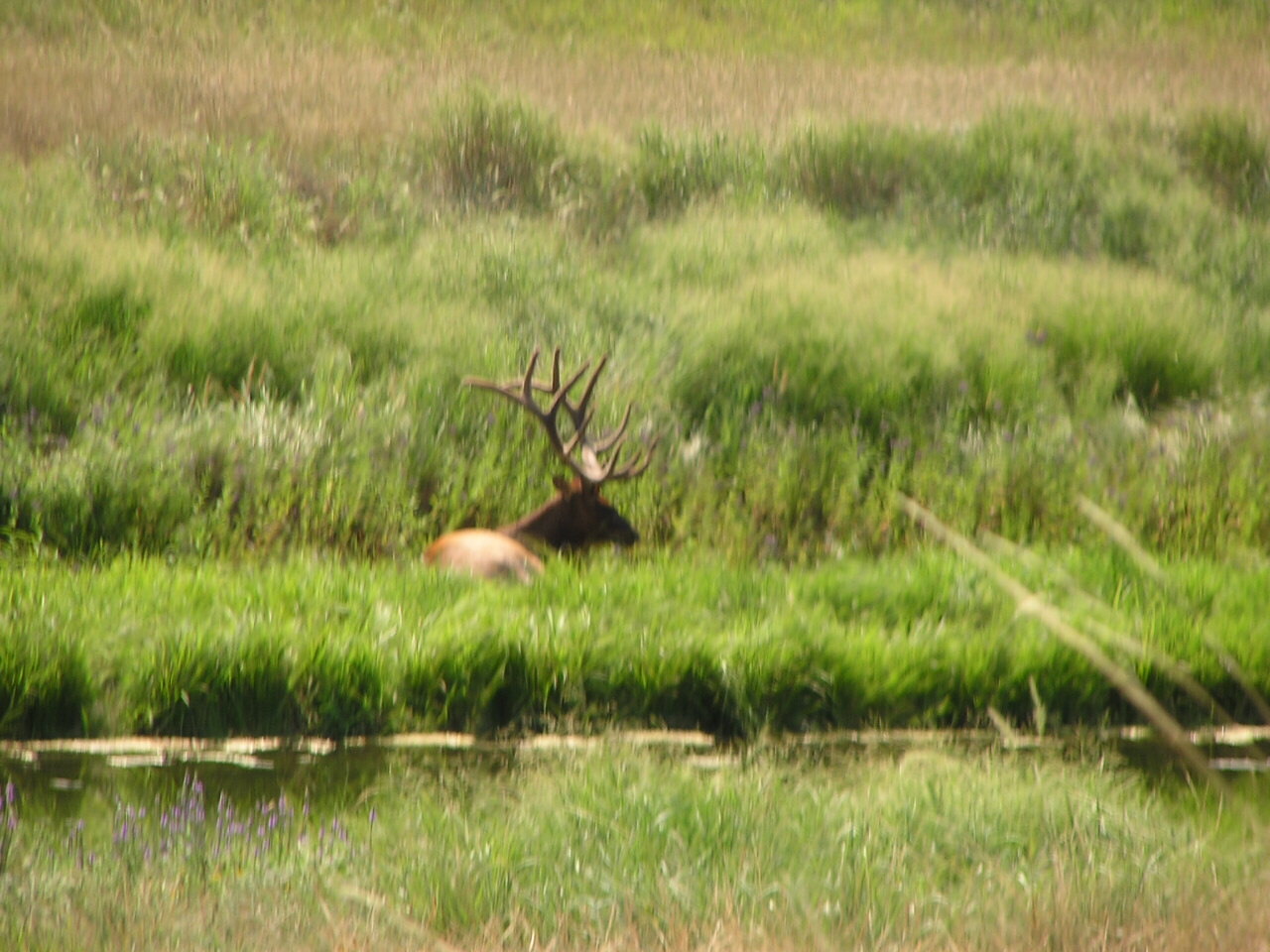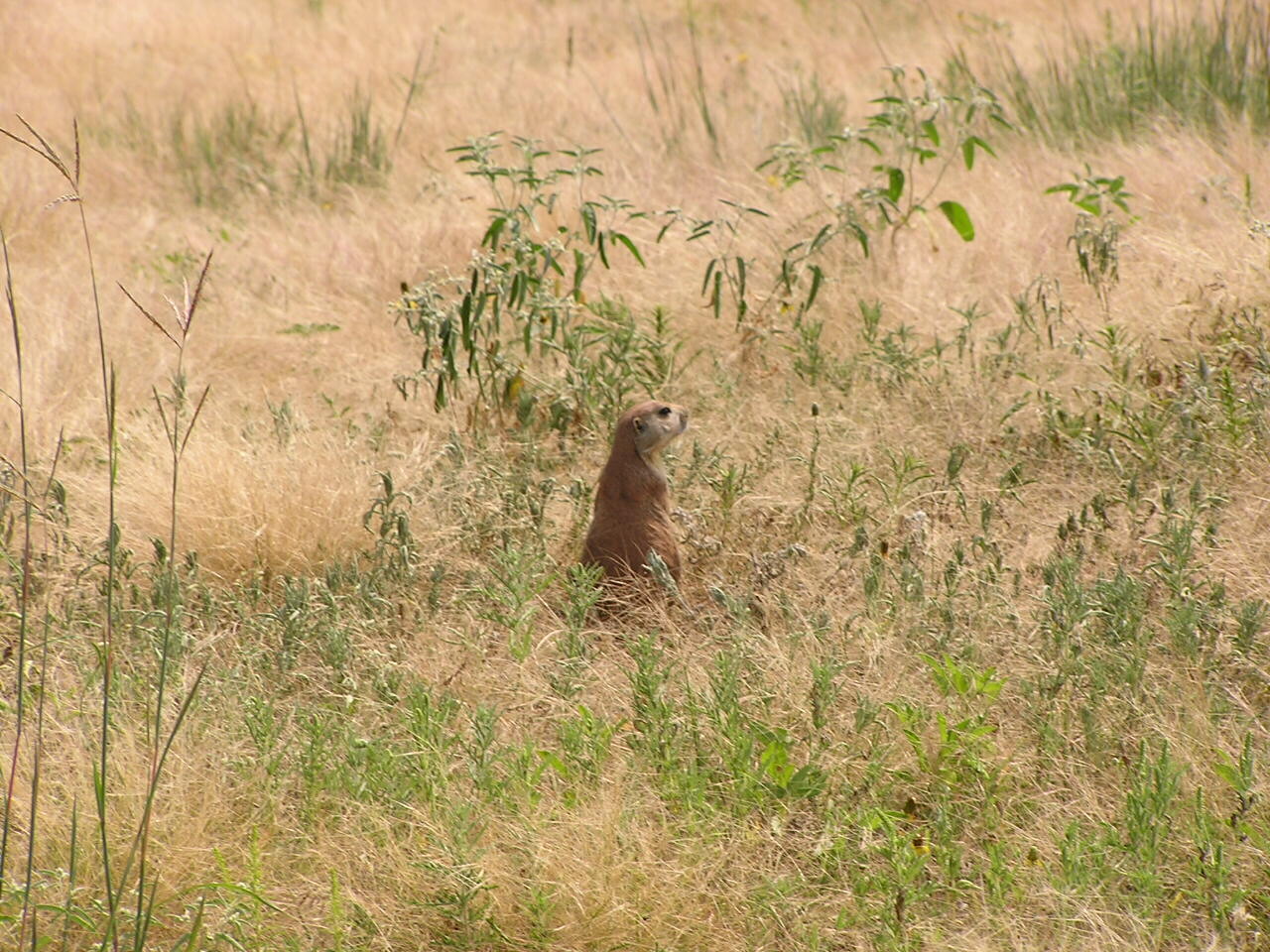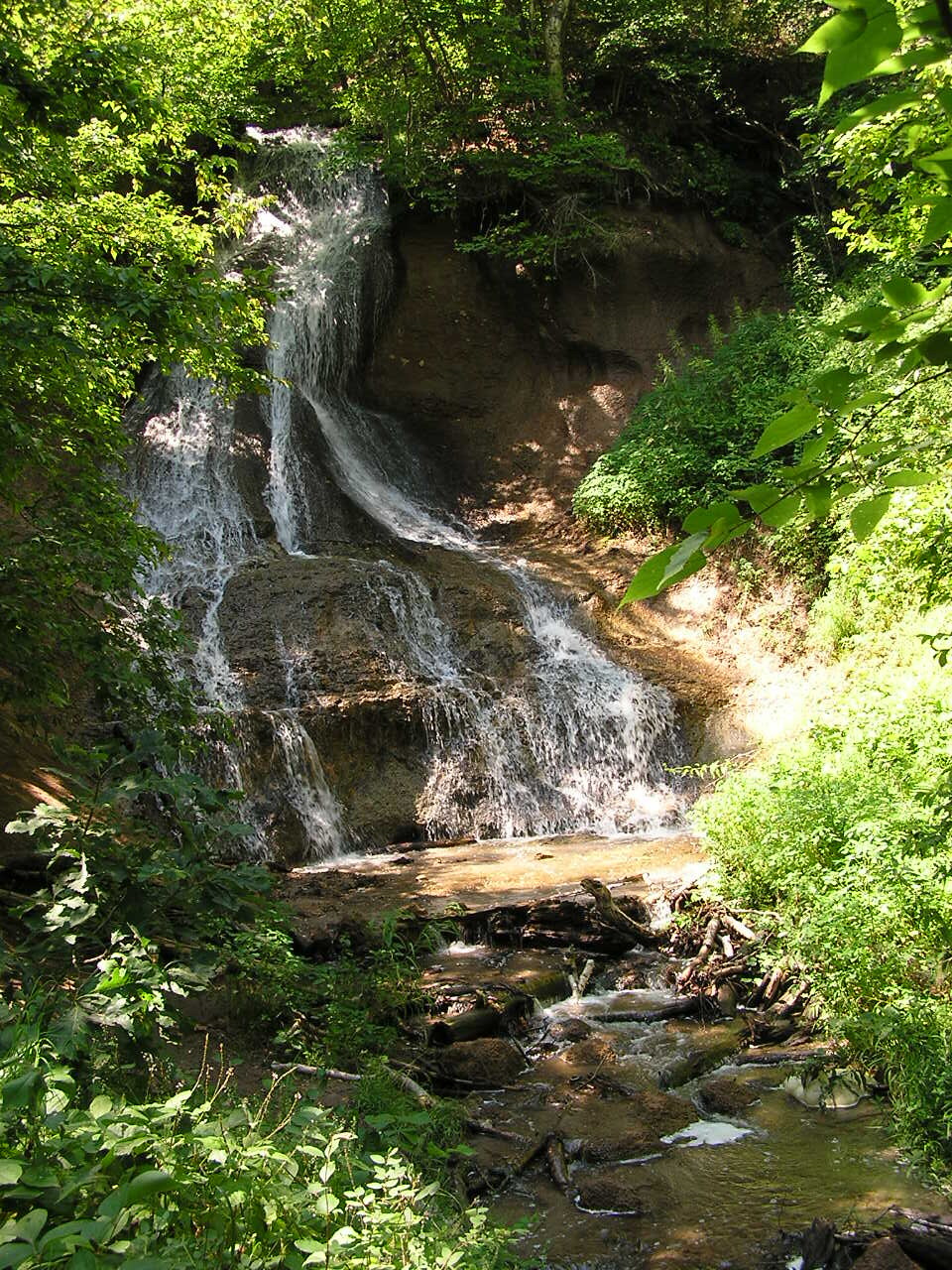 We then went to the falls at the wild life refuge. We had to work our way down some metal stairs and at the the bottom was the falls in all of their glory. We were on a trail head which we didn't know how long it was going to be, so we followed it. It turned out to be 2.5 miles long, mostly up and down hill. We found our selves on a very hot long hike(it was in the 90s.) Afterwards we went back to town and had a nice long cold drink at McDonalds.

It was now after 3pm, so we headed back to the campground, cleaned up(By the way their shower facilities leaves something to be desired) and invited Bryan and Jim to have dinner with us at the Waters Edge(Merritt Resort's fine dining facility.)

After dinner(7.30pm or so) we all headed out to the observing site and set up. I noticed clouds developing to the west of us, but they ended up going south of us and we got a clear night of observing. As soon as it got dark, I got a crude polar alignment, looked at m22 for a few minuites and then got started on my observing program.

I picked off the following objects on the night of the 28th. Monday Night


We broke off after about 12.30am and I slept in until about 9am. We went into town for lunch, after whiuch we noticed storm clouds building to the south west. We hurried back to the camper, got all of the windows zipped up and then the storm hit. 40mph winds rocked the camper, the lights flickered a few times and then it was over(about 20 minuites.) For our evening meal there was the NSP catered meal at the Waters Edge, which consisted of hamburgers, baked beans and several salad items. By evening it had cleared off and we went out and set up again. After we got set up, we realized that we had only one red flashlight between the two of us. Cheryl was working on her Binocular Messier List, so we were fighting all night over who can use the flashlight.

I picked off the following objects on the night of the 29th. Tuesday Night



After getting 8 messier objects in one night, I looked at Mars for a while(I could clearly see the ice cap) and then we headed down to where the boys were with the big scopes. One of the guys there had a 20+" scope with a uhc filter on it and he got a very nice view of Mars with lots of detail. We mostly chatted until about 1:30am when we came back and took the scopes down. While driving back to the camper at about 2.15am or so we could clearly see the Pleides.

I didn't get up until 11am when the camper got to hot to sleep in. Cheryl was already up, sitting outside in one of the lawn chairs. We went over to the beach party where they were serving foot long polish sausages and brats.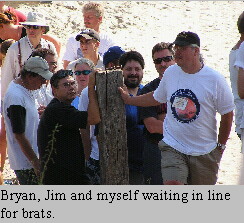 I picked off the following objects on the night of the 30th. Wednesday Night

After that we went down and visited with the boys with the big scopes. I overheard one of them mentioning that he was studying to be a proffesional astronomer and that he had spent a month on top of Mt. Kea and the skys here compared favorably(the seeing was steadier on Mt Kea though.)

Thursday we had lunch in town(your small town square cafe sort of place.) Then we tryed out their version of a coffee shop. It was a combination Coffee shop, Flower Shop, JCP Catalog store and a Mexican Resturant. They also sold nick nacks, Cheryl said this place would do anything for a buck. Well the Mochas and Frapachinos weren't to bad and we got a memory. Back at camp, Cheryl bought me a new flashlight and a book that I wanted.

We set up again Thursday night, but I could tell the weather wasn't going to hold. Gnats were buzzing around our heads, which usually indicates that we are under the influence of a low pressure front. And clouds were building to the west. I did manage to bag one object before the clouds moved in though.

I picked off the following object on the night of the 31th. Thursday Night

Friday, we had beakfast in town(lots of eggs and meat,) and then we attended the classes NSP were giving(mainly for a chance to win the door prizes.) In the morning session we didn't win anything and I found all of the classes except for one boring.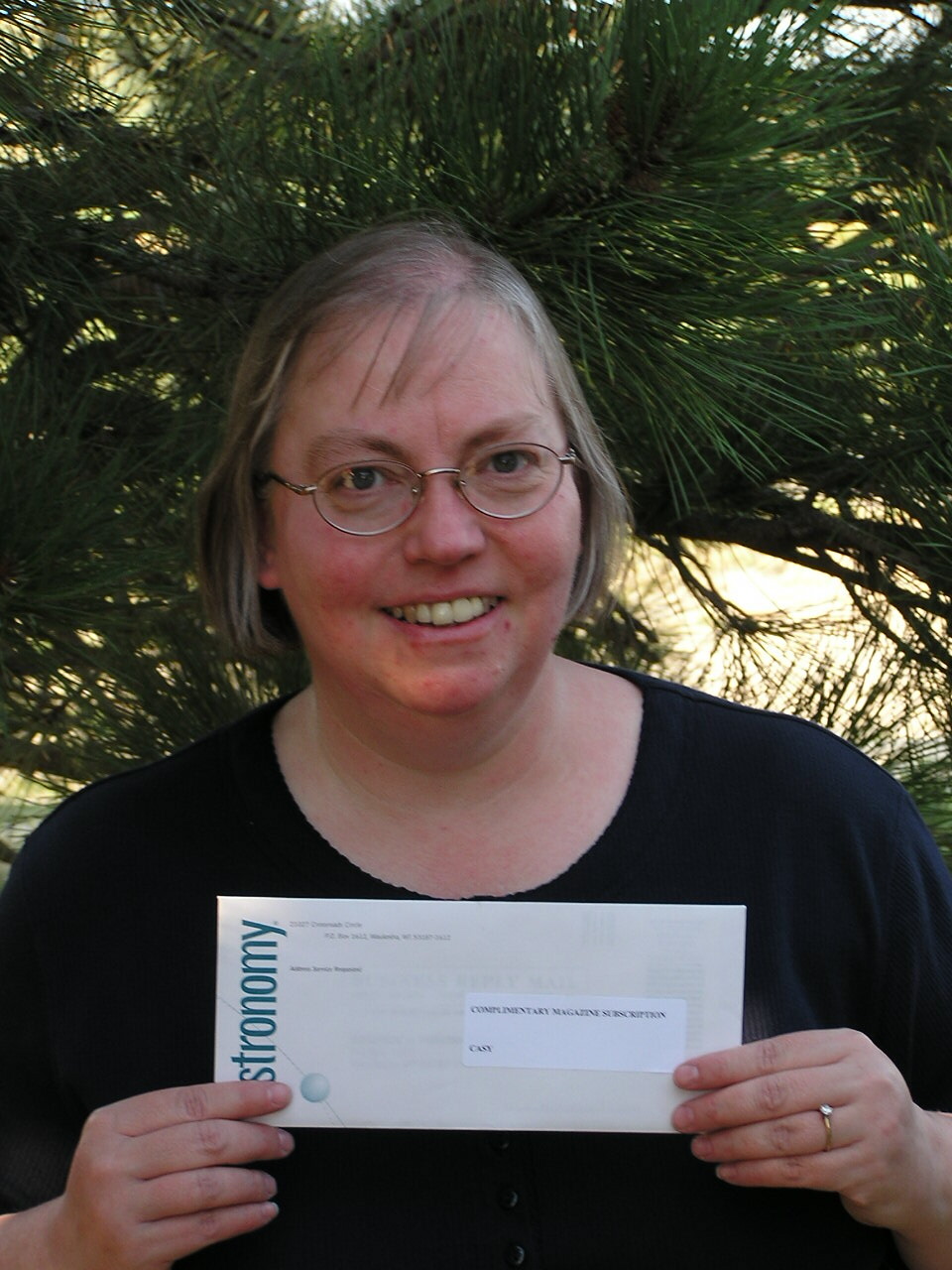 Cheryl enjoyed the class on art and astronomy, but I enjoyed to class on the expansion of the m1 object. For lunch they had brought in pizza, but we weren't really hungry yet. So we headed back over to the coffee shop for a picker up. In the afternoon Cheryl won a free subscription to Astronomy Magazine.

We didn't go observing Friday night, because we wanted to leave early Saturday Morning for Des Moines. To bad it was clear.

Saturday was fairly uneventful. We had the camper folded up by 8.30am, and were on the road by 9am. We arrived in Des Moines at about 6pm.